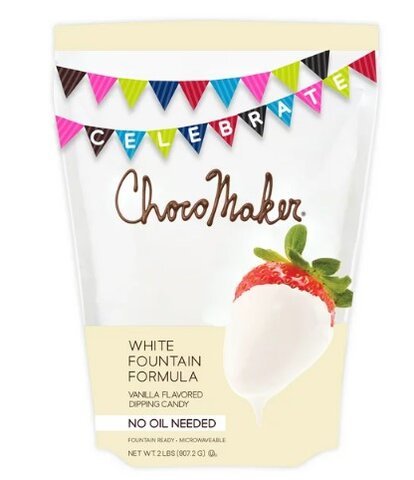 White Chocolate Fondue Melts
This 2 lb. bag of flavored dipping candy is specially formulated for use in Chocolate Fountains. Just melt dipping candy in the microwave and it will be fountain ready in no time, you dont even need to add any extra oils. Its also great for chocolate fondue, candy making and other delicious desserts.
SMOOTH TEXTURE - Specially formulated to melt quickly and to provide easy and delicious smooth chocolate.
MICROWAVABLE - Our top-rated, special recipe ChocoMaker Fountain Fondue Dipping Candy is chocolate fountain ready and microwaveable. Plus, no oil is needed!
MULTIPURPOSE CHOCOLATE - Formulated for use in our Chocolate Fountains, but it is also great for chocolate fondue, candy making and delicious desserts.
PERFECT FOR PARTIES - ChocoMaker lets home entertainers express their sweeter side with chocolate and candy. From dipping to decorating, with ChocoMaker youre more than a dessert makeryoure an artist.
INGREDIENTS Contains milk and soy. May contain trace amounts of peanuts due to common processing equipment. This product is gluten free.